"
Best Value" in South Carolina Golf Announced for 2016
Beach Scoops the Pool In Best Value Awards
For Release, March 20, 2016
Myrtle Beach is the leading destination in the first ranking of best value golf in the state according to the South Carolina Golf Course Ratings Panel. Of four categories judged best bang for the buck by the panel's 125 members, Beach courses feature in three of the most favored.
Golf Panel executive director Michael Whitaker says the results reflect "value for money." "It's not about the cheapest golf," he says. "It's about recognizing facilities that present golfers with the best quality of product-to-price ratio. We are certainly blessed to live so close to the kind of golf that so many people travel from other states and other countries for the chance to play."
The Legends Golf and Resort was a clear winner in the Best Public Group Value category. With three courses on site and access to another two, an expansive floodlit practice facility, on-site accommodation and its own pub in addition to the clubhouse, The Legends is enormously popular with daily and extended stay golfers.
"Where else can you have the option of playing three different courses - and styles - all under the same 'roof,'" says panel member Glen Hough from Charleston. "A great way to get 36 holes in a day in summer and still make it to dinner. They have good rates as well."
Many panelists also cited the fact that the price of every round on a Legends course includes breakfast, lunch and two drinks. Pete Shumway from McCormick points out that the pricing and packaging is all the more appealing because of the "excellent quality golf courses." The on-site courses are the Heathland, Moorland and Parkland. Off site, Legends golfers have access to The Heritage Club on Pawleys Island and Oyster Bay Golf Links just across the border in North Carolina.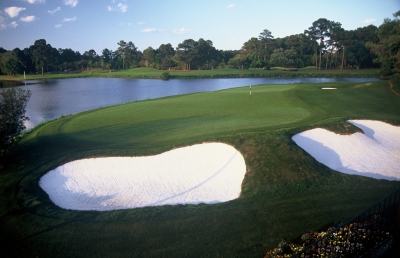 The 18th hole at Caledonia Golf and Fish requires an approach across water to a green that stretches 40 yards.
In the Best Public Club Value category, Caledonia Golf and Fish Club and True Blue Golf Club - two courses that operate under one entity - dominated. The sister courses were designed by the same architect, the late Mike Strantz, and while they sit either side of one road they are remarkably different in character and offer what panelist Mitch Laurence of Conway calls "the best low country golf course experience you can have." His preference of the two is Caledonia: "Relative to rates at other top-rated courses nationally, this is still the one course I'd play, or tell friends to play…"
Larry Gavrich from Pawleys Island is another Caledonia fan. "For those who can't get enough of Caledonia, an annual membership is about $2,000 (and they throw in True Blue as well)," he says. "But even if you have to pay $100-plus per round a few times a year, it is well worth it to see the restrained side of Mike Strantz, despite the few excesses like the 40-yard long green on No. 18. The course is always in excellent condition, despite its popularity and heavy play."
The Members Club at Grande Dunes and The Reserve Club at Pawleys Island featured in the Best Private Group Value category. As part of the McConnell Golf offering in South Carolina along with Musgrove Mill Golf Club in the Upstate, they are among 13 private courses that members have access to with the bulk in North Carolina.
The major exception to Myrtle Beach's command of best value golf was Orangeburg Country Club in the Midlands, voted Best Private Club Value. Spartanburg's Tony Hill says Orangeburg is a "great country club that would be untouchable in a big city. Best upscale club value in the state." Joshua Malone from Mt. Pleasant says: "The consistent condition of this course coupled with the fees make it an unbelievable value."
The Winners:
Best Private Club Value - Orangeburg Country Club
Best Private Group Value - McConnell Golf
Best Public Club Value - Caledonia and True Blue
Best Public Group Value - Legends Golf and Resort
For more information on the South Carolina Golf Course Ratings Panel contact its Executive Director, Michael Whitaker, via email at mikew@scgolfpanel.org.
# # #